Justin Williams had a goal and an assist for the Los Angeles Kings in Sunday night's 5-4 overtime victory over the Chicago Blackhawks. It was Game Seven and has now put Williams career Game Seven point totals at 7 goals and 7 assists for 14 points. From Bret Hedican's twitter: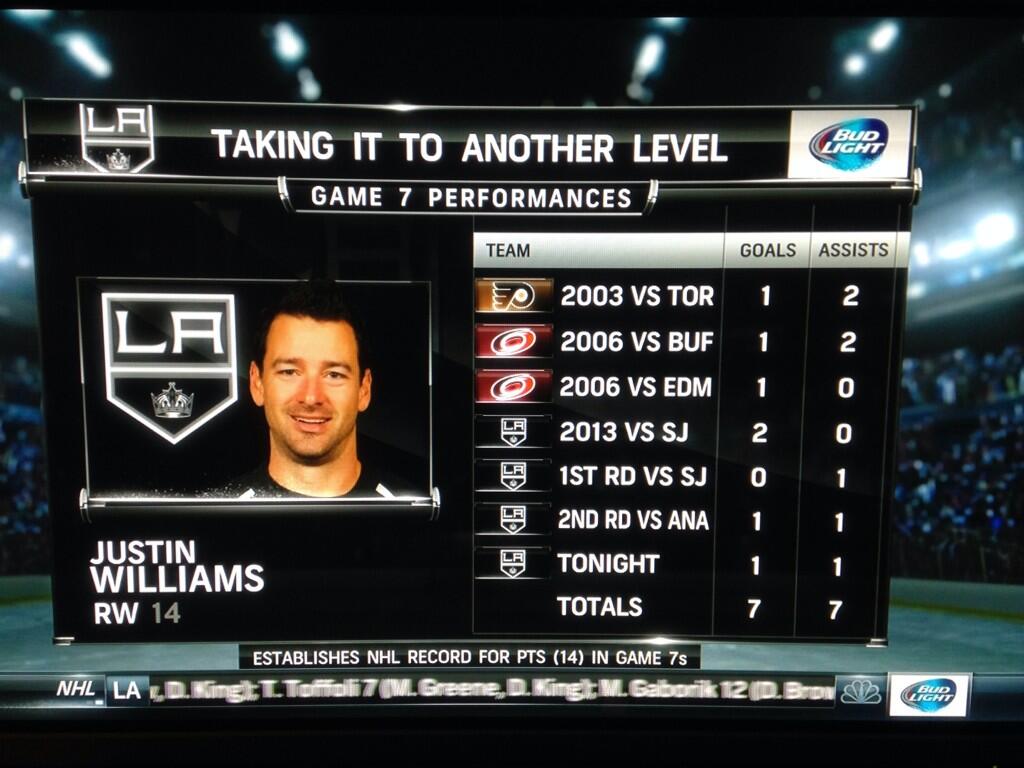 That's pretty ridiculous, right? So I decided to go back and find video of each of his Game Seven goals and GIF each one. Here they are in chronological order.
1. As a Philadelphia Flyer versus the Toronto Maple Leafs in a 6-1 game seven victory in 2003.
2. One of two Game Seven goals in the 2006 Stanley Cup run by the Carolina Hurricanes. This one came in a Game Seven against the Buffalo Sabres.
3. In the Stanley Cup Final, Williams secured the Stanley Cup victory for the Hurricanes with an empty net goal in Game Seven.
4. His first as a Los Angeles King and first of two in this game, Williams scored in Game Seven versus the San Jose Sharks on May 28. 2013.
5. Here is the second goal from this same game.
6. Williams scored in the Game Seven victory over the Anaheim Ducks in the second round of the 2014 playoffs.
7. Sunday's goal was the second for the Kings in the 5-4 Game Seven overtime victory to advance to the Stanley Cup Final.
There you have it. Every Game Seven goal ever scored by Justin Williams. Seven total. And his number is 14.
But seriously, what is it about one person that he not only experiences so many Game Sevens, but excels in them?
All footage used in this post was found on youtube.